Lets start at the beginning, when and how did you and your partner meet?
We met almost 11 years ago. Scott took my resume for a job at a Sports Store and I started working there the next day. We started dating very soon after and have been together since.
Tell us about the proposal ..
I had been in Florida for work for three weeks and when I returned home, Scott had booked us dinner at a restaurant we had been trying to get into for some time. We were meant to go to drinks with friends after dinner but Scott said he was too tired and suggested we go home to have a drink the two of us. When we got home he had made the house look lovely, opened a bottle of wine and he asked me to marry him! He kept his cool all night and didn't make me suspicious at all. The ring he designed is just stunning. He actually helped the jeweller to handmake it which I thought was very romantic and made the ring feel extra special. I was super happy that he had also managed to time the proposal while my sister was visiting from NYC and it was really special to celebrate together. The next day we had an impromptu engagement drinks at a pub with family and a few friends – this was such a happy day!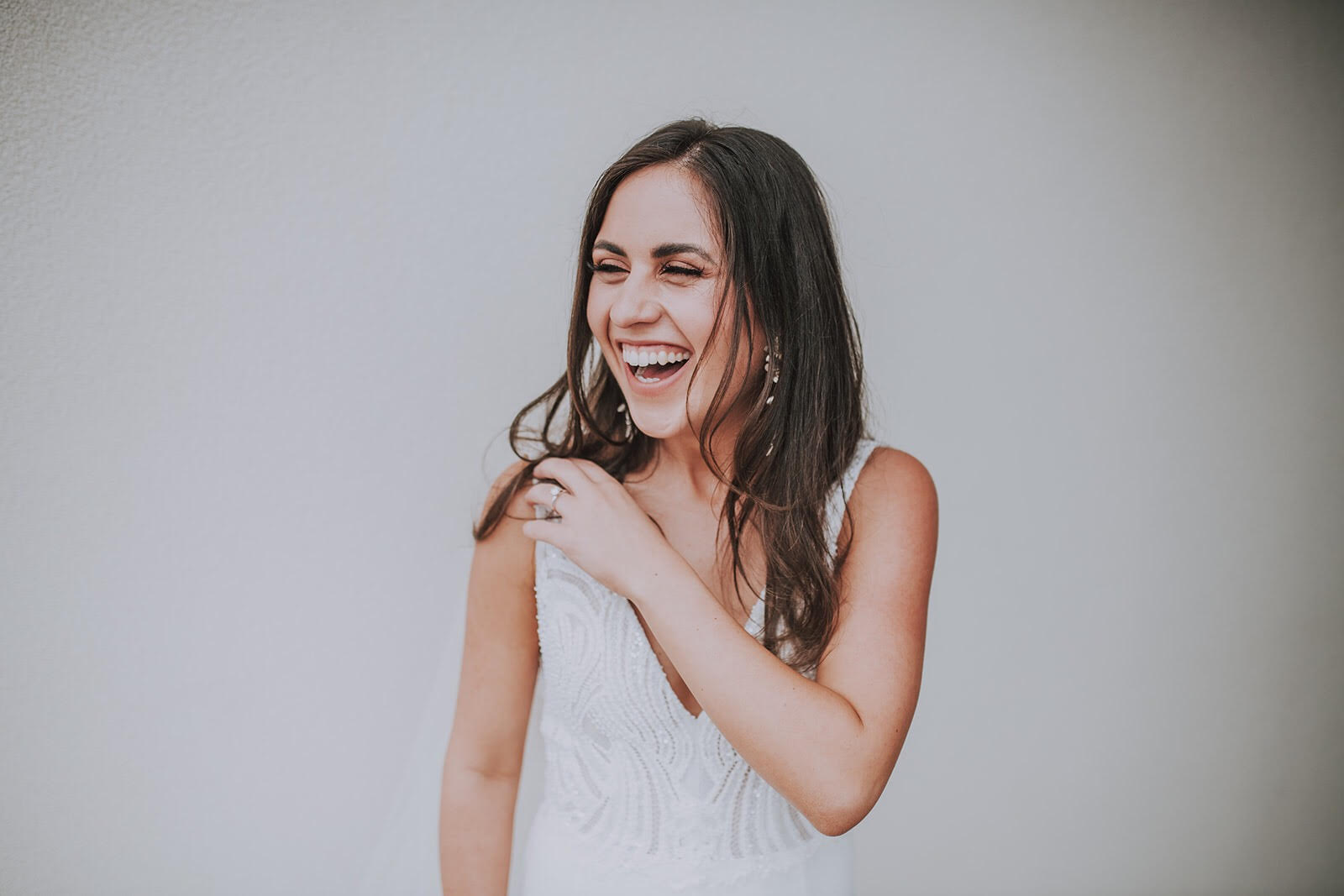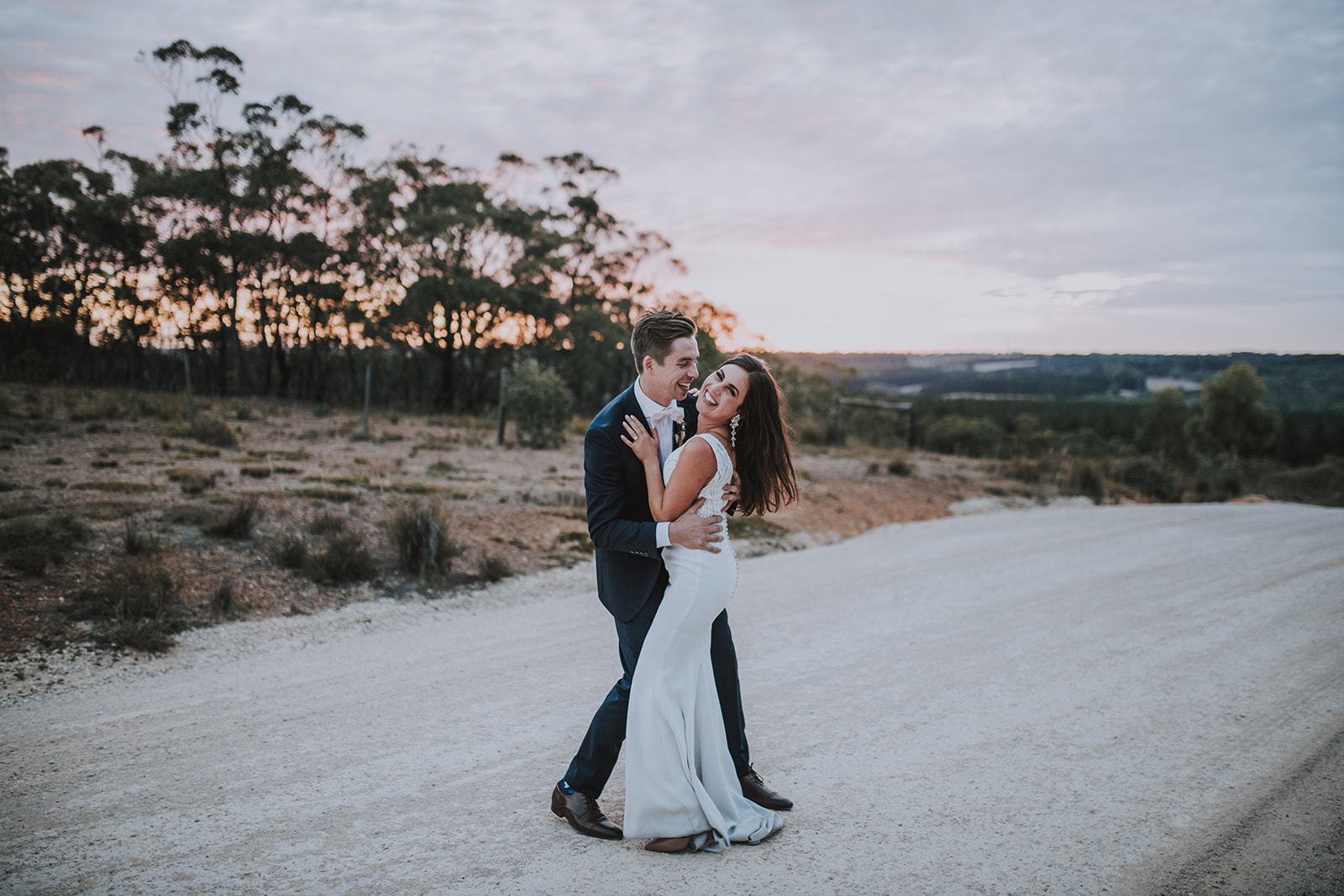 The Dress! Tell us about your experience finding the dress .. How did you decide on the one?
I absolutely adored the dress Caleche created for me. I went to a few different places and was very open-minded about trying lots of different styles to work out what suited my shape and personality the most. I wanted something I would be able to dance in but also feel quite glamorous. I started to get an idea of the shape I wanted quite quickly and had a lot of fun at Caleche mixing elements of a few of their different dresses together. I fell in love with a beaded lace they had on display as a jacket and they very happily agreed to use it for the top of my dress. Liz and I put all of the different design ideas we had together in a drawing and it was such an incredible experience watching it come to life with each fitting. The dress fit me like a glove, the fabrics are of beautiful quality and I cannot speak highly enough of the professionalism at Caleche. The detachable bow at the back was a last-minute brainwave by Liz and it ended up being my favourite part!!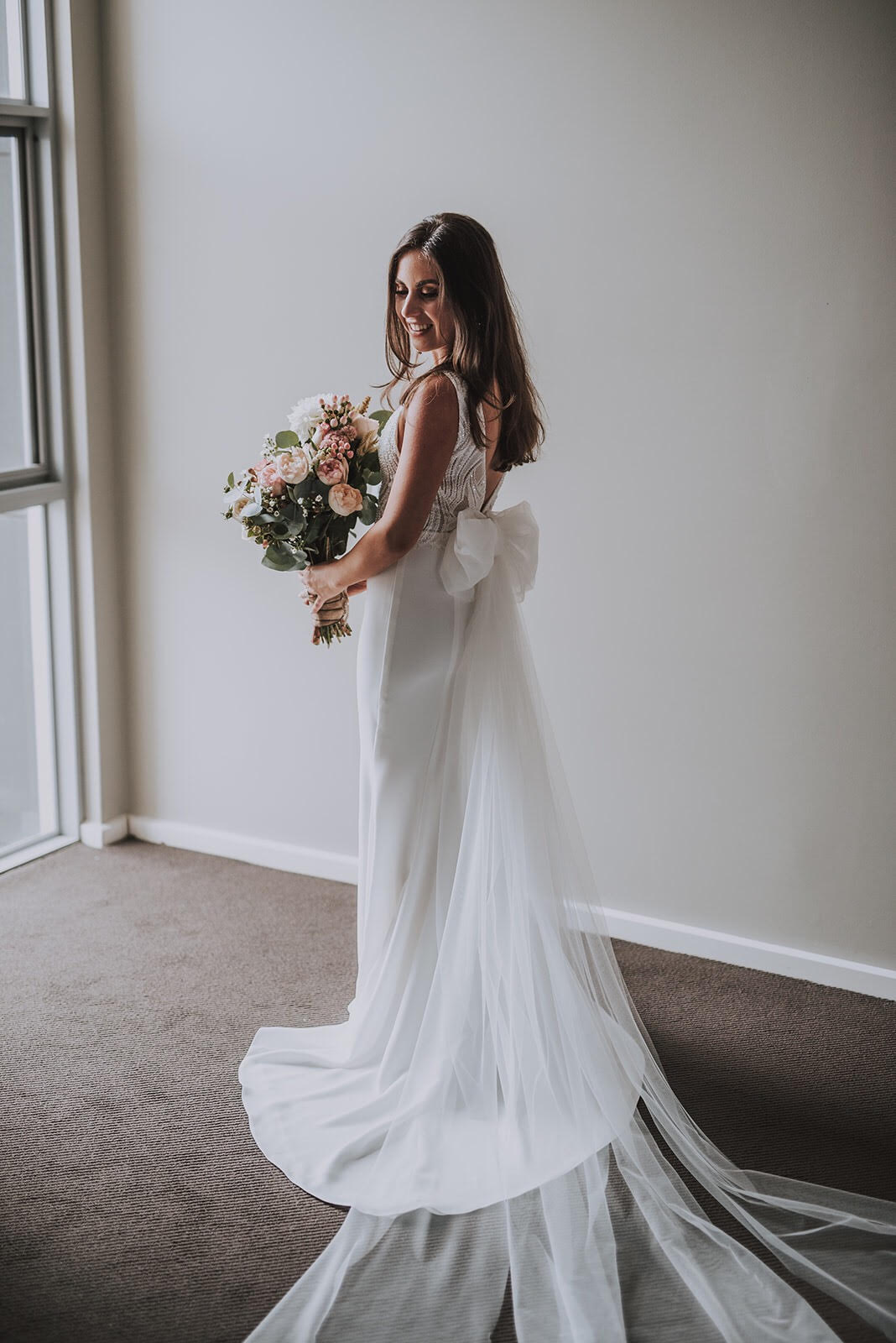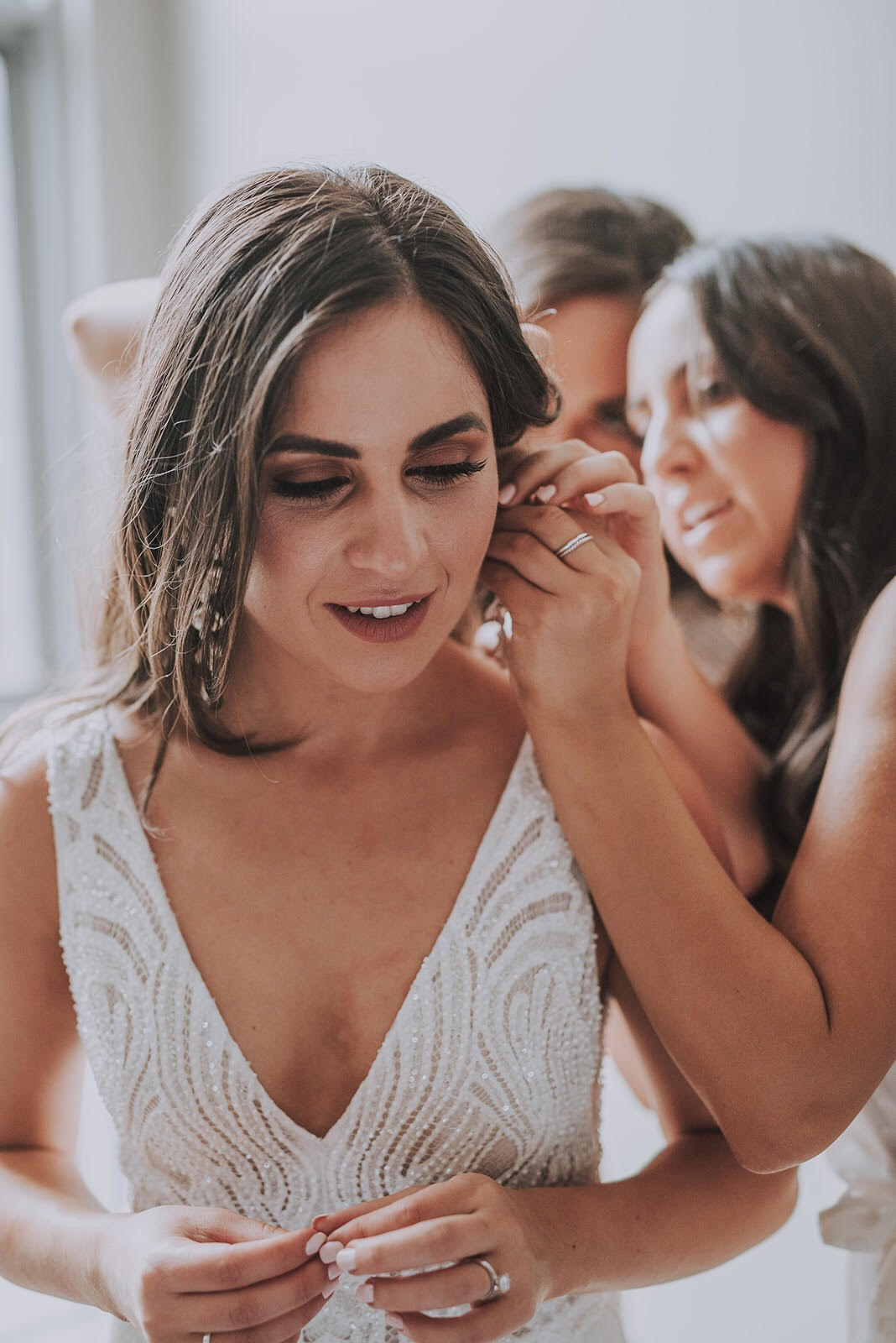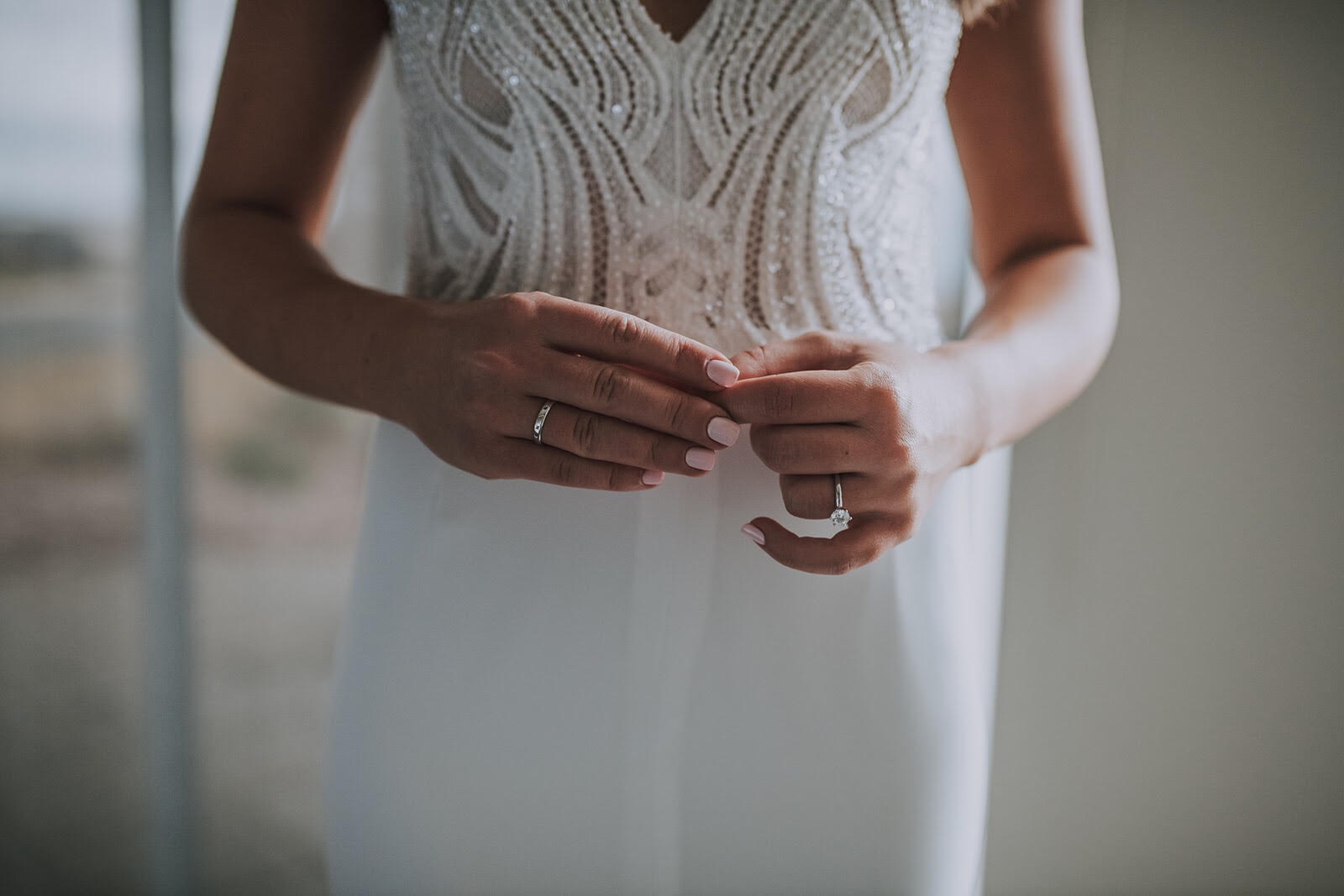 Can you give us some details on your wedding location?
We chose to get married in Kuitpo Forest. Scott was blown away by the beauty of Burbook Forest as a ceremony setting and both of us felt it would be fun to bring our family and friends to a part of Adelaide that most had never seen before. We had always hoped for a venue that had the capacity for us to DIY as I love planning events so Kuitpo Hall across the road worked well for the reception. We had a clear marquee on the lawns and it looked beautiful.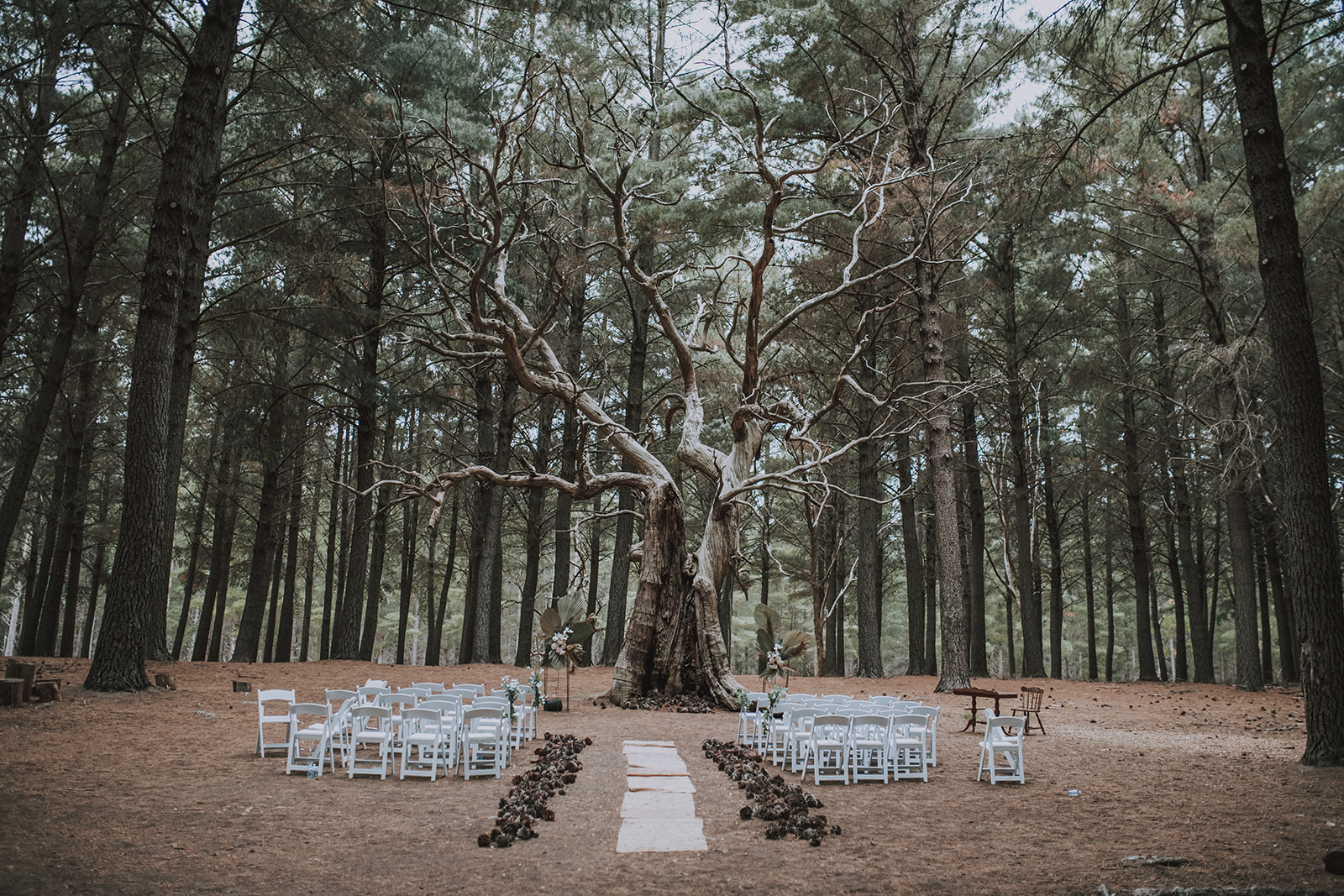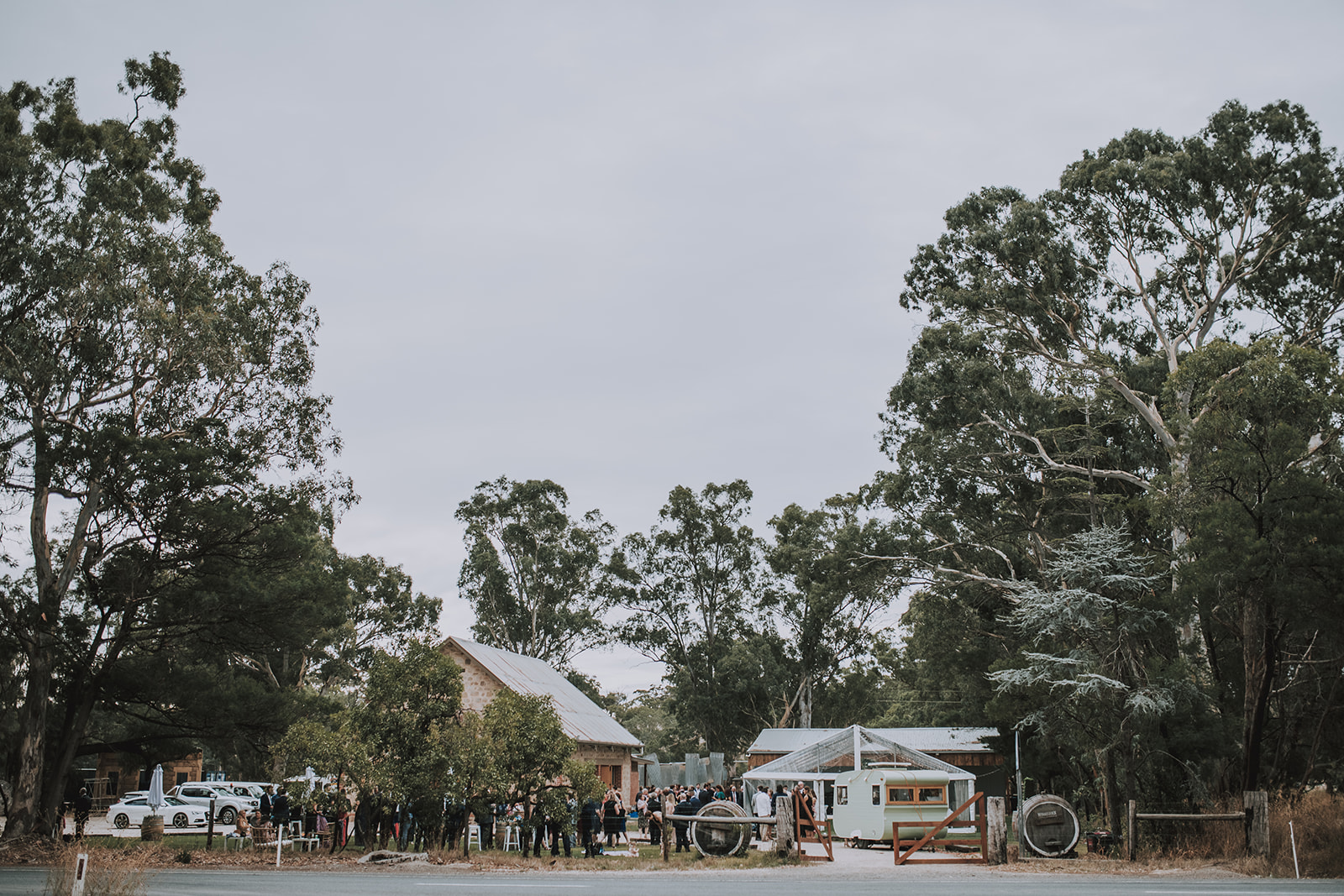 What was your favourite moment of the day?
Oh gosh, I had so many!! I felt so at ease when I reached Scott at the end of the aisle. We wrote our own vowels so hearing Scott's for the first time was definitely a highlight. After our first dance, the dancefloor was full the entire night and I didn't move from it either! Scott and I took some time to stand back and take in the big party we had organised and all the fun everyone was having which blew me away. Then my dad and his old bandmates surprised us by joining the band to play a couple of songs and the fun escalated from there.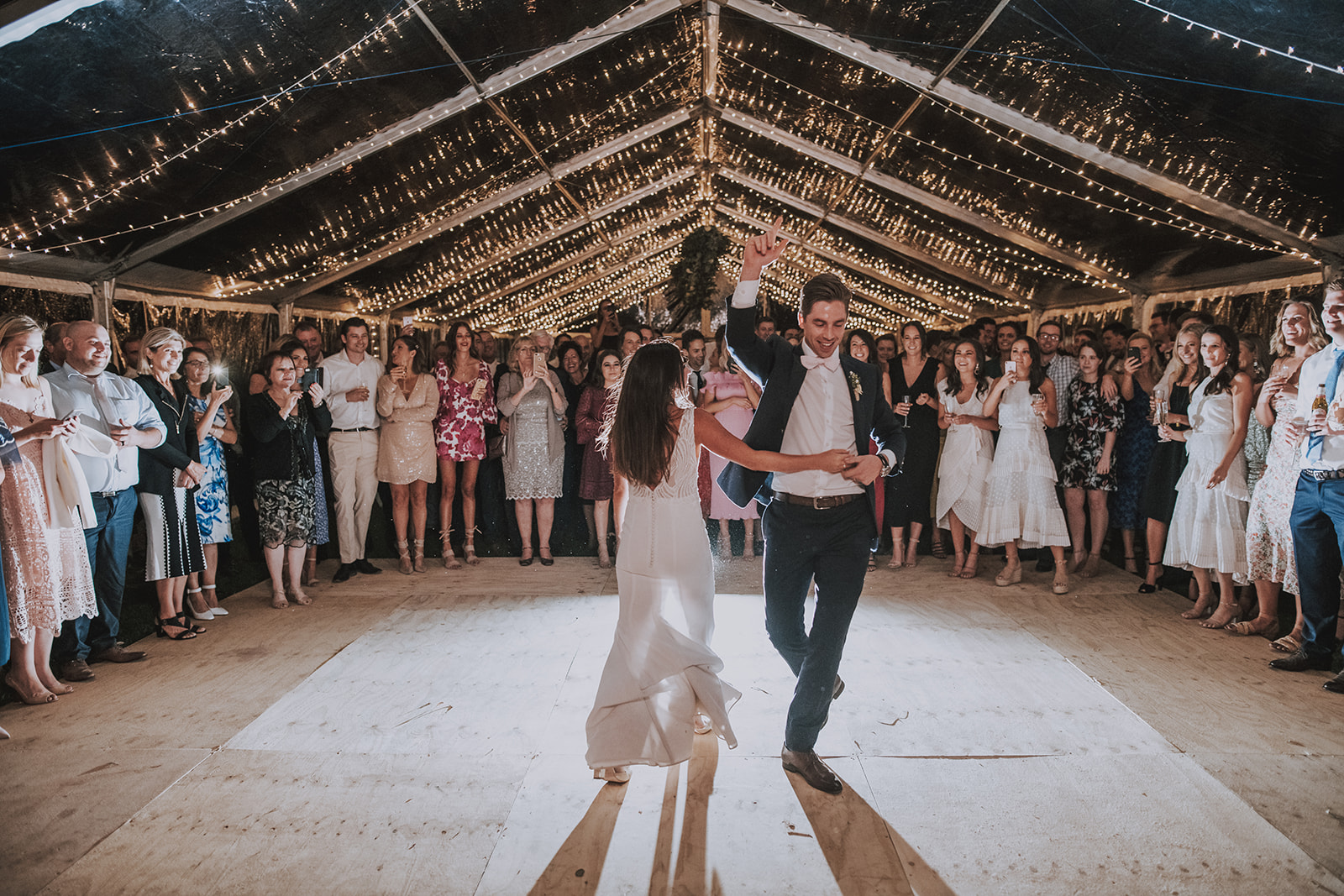 Hens Day! If you had one, please tell us all about it!
I was very lucky – my four wonderful bridesmaids organised a beautiful and hilarious Hen's Day for me. One of my sisters lives in New York so we had a small Hen's Day the week before the wedding – I wanted it to be quite intimate so we just kept it to very close friends. We started at my parents place for games, canapes and a catered dinner before heading to the Fringe where myself and all the girls were surprised with tickets to Guru Dudu's Silent Disco Walking Tour. It was absolutely hilarious – the perfect Hen's Night activity. It actually worked really well having the Hen's Day so close to the wedding because it gave a few of the special girls in my life an opportunity to meet one another and then see each other again at the wedding so soon after.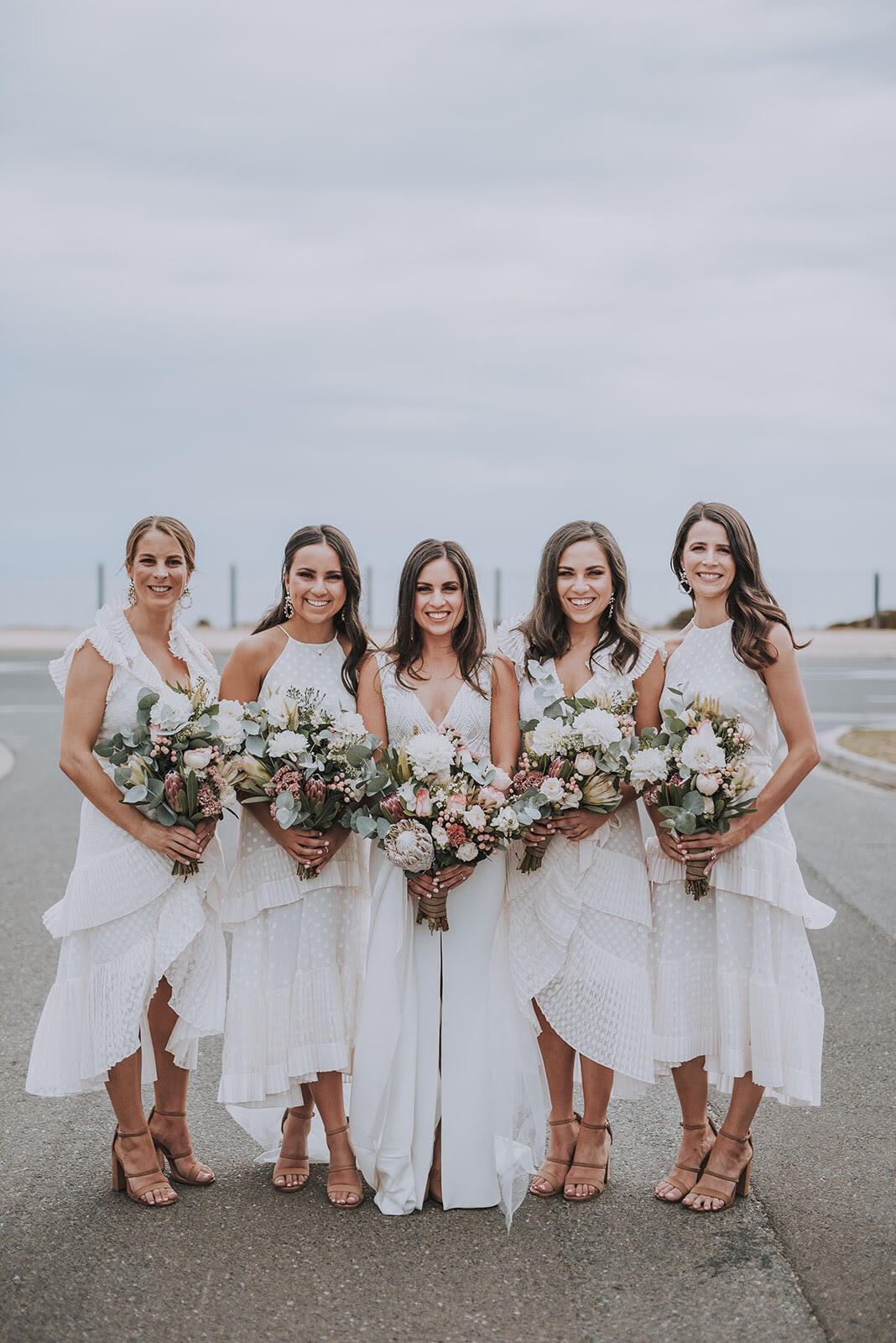 Lastly, is there any advice or words of wisdom you have for future brides?
Have fun with the process!! It is honestly the best day. Take time to meet with potential suppliers beforehand so you can get a sense of whether they will be the right fit for you and your partner. We attribute so much of the fun and ease we had in organising our wedding to our amazing team of suppliers and our incredibly supportive family and friends. And finally, take a moment just the two of you to stand back and soak it all in. It's nice to have a moment of uninterrupted time with your new husband as the day goes by so quickly!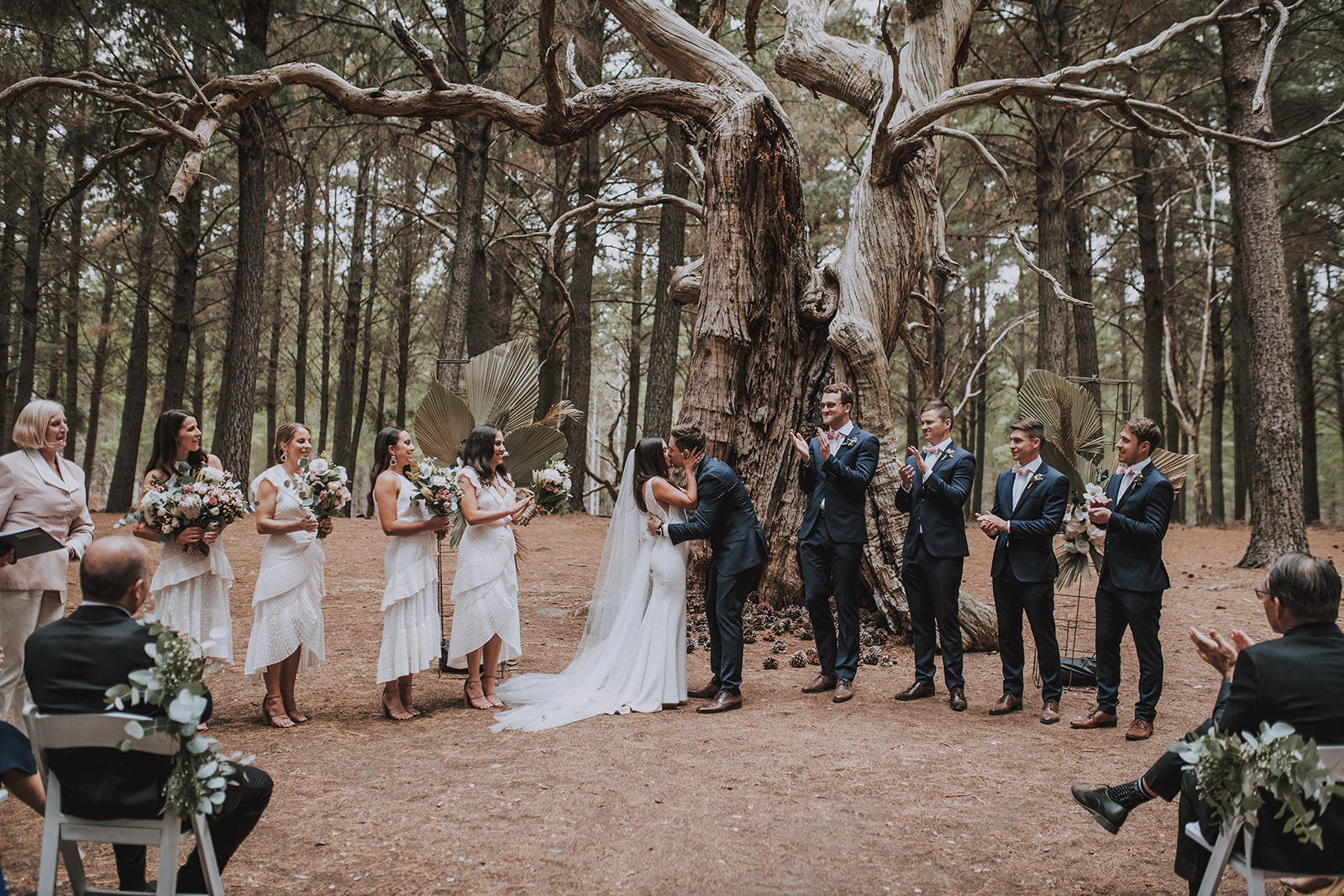 Details
Photographer: Evan Bailey; Ceremony Location: Burbrook Forest; Bride Earrings: A.B.Ellie; Bridesmaid's dresses: Zimmermann; Bridesmaid Earrings: Ruby & Sage; Groom's Suits: Peter Jackson; Grooms' Bow Ties: Heywood 1922; Rings: Everett Brookes; Videographer: Kate Bailey; Flowers: Flowers by Nitsa; Makeup: Eleanor Martin & Karina Piperone; Hair: Chelsea – Pipsqueek in Saigon; Event Planner/ Day Co-ordinator: Jess Packer, Events & Co; Espresso Martini Van: Mister Tods (Peter Rabbit Café); Stationary Design: Vivienne Beal.