Lets start at the beginning, when and how did you and your partner meet?
Scott and I met through Tinder in September 2013. We chatted for a few weeks over text and then met up for a drink and the rest is history.
Tell us about the proposal ..
Scott and I were on a road trip to Melbourne with friends when we stopped in the Grampians for the night. The next day we went for a walk through Mackenzie Falls which is where Scott got down on one knee and proposed. All our friends knew what was about to happen and had been prepared with a backpack of 'water' (Moet & Chandon) to celebrate. I was completely taken by surprise and it was the most wonderful moment. We then spent the rest of the weekend celebrating with our close friends.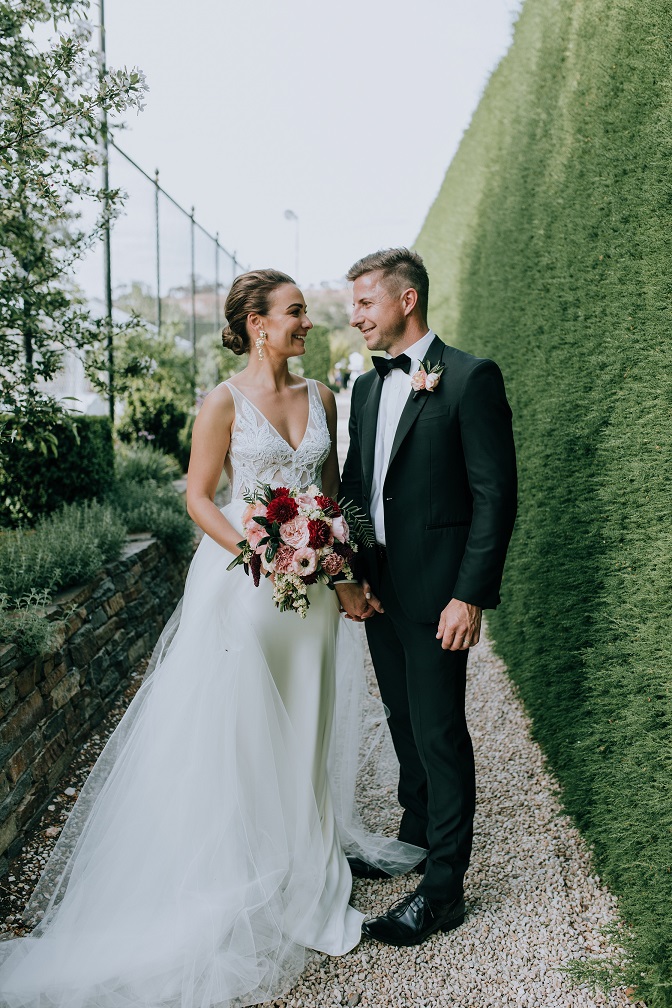 The Dress! Tell us about your experience finding the dress .. How did you decide on the one?
I went on the dress hunt pretty opened minded! I tried on lots of dresses in all different styles and material to help narrow down which style suited me best. Once I had established the style I liked, I went home and started drawing some designs. I then went to Caleche and they were fantastic in bringing my vision to life. We played around with styles and talked about mixing and matching different dress tops and bottoms, we then looked at different materials and talked about what we could do with each of them. It didn't take very long before we had a design worked out and the dress was ready to be created. I found the whole process at Caleche fantastic. They understood what I wanted and we worked so well together. The end result was literally my dream dress.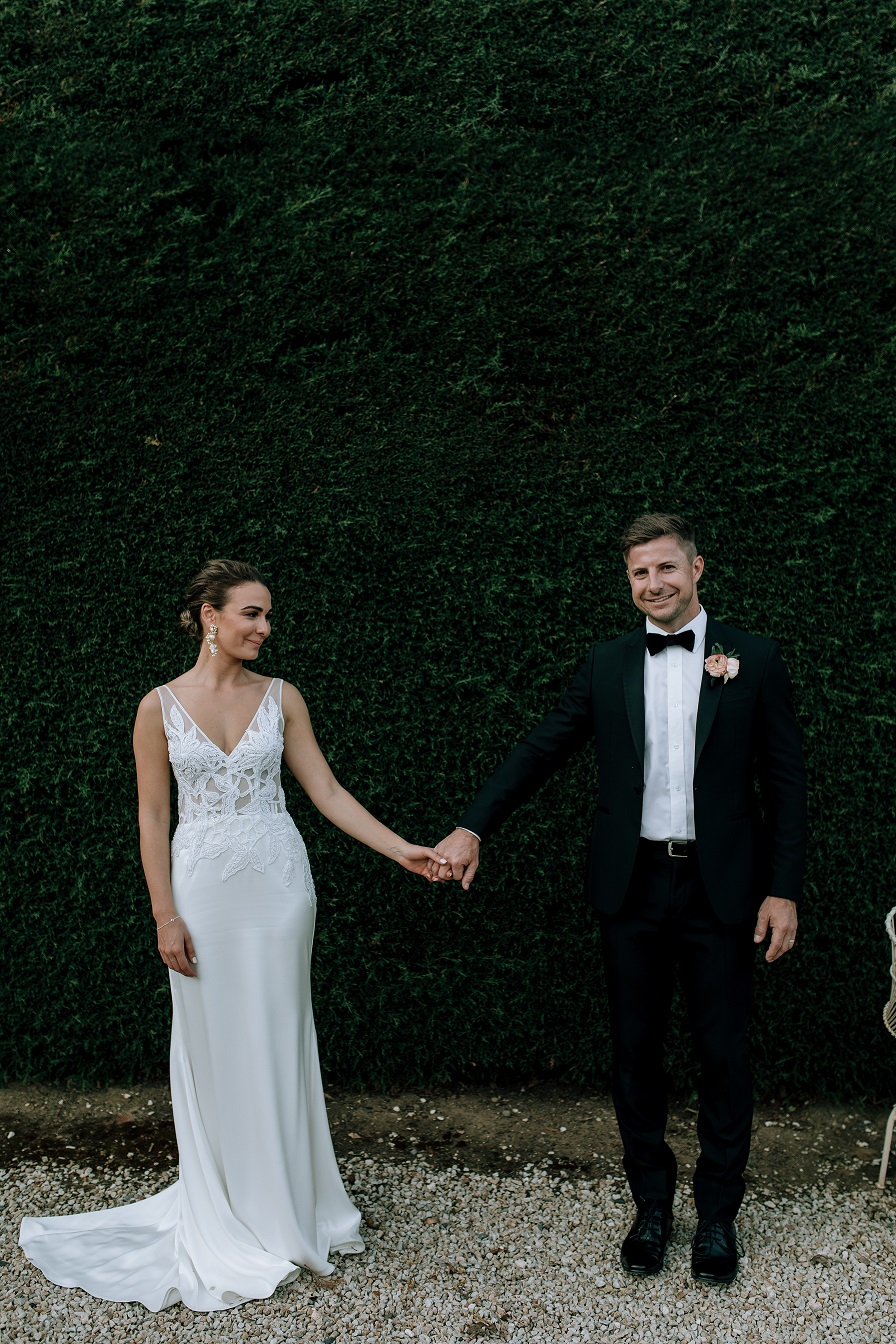 Can you give us some details on your wedding location?
We were married at Mandalay House and Garden in the Adelaide Hills. We fell in love with the venue the moment we saw it and we honestly couldn't have imagined getting married anywhere else.
What was your favourite moment of the day?
I don't think I can pick one favourite moment. The relaxing morning I had with my family and bridesmaids was wonderful. Putting on my dress was certainly an exciting moment and of course saying 'I do' to my husband.
Hens Day! If you had one, please tell us all about it!
My bridesmaids went all out for my Hens. It was the most fantastic day. They hired out Red Ruby Flamingo in North Adelaide for a long lunch. The theme of the day was "La Dolce Vita', homage to my Italian heritage. The table was completely decorated with beautiful bright flowers, vases of lemons and of course cans of Italian tomatoes. The surprised didn't end there, they girls organised some Latin dances to come to the restaurant. We had lots of laughs shaking our hips.
Lastly, is there any advice or words of wisdom you have for future brides?
My advice would be to make sure you enjoy the whole process. It shouldn't be stressful, it is the most wonderful time planning a wedding. On the wedding day take a moment with your new husband to step away from the party and take it all in. The day & night goes so quickly, so make sure you have a moment to reflect.
Details
Photographer: Jack Small Photography; Venue: Mandalay House and Garden; Bridesmaids: Zimmermann; Groom & Groomsmen: Peter Shearer; Bride and Bridesmaid Earrings: Isabella May; Venue Styling & Flowers: Hygge Studio; Tableware: Modern Party Hire; Bride make up: Ali Buss; Bridesmaids make up: Tess Davoren; Bride Wedding Band and Engagement Ring: Wishart Jewellers; Grooms Ring: Raphael Quality Goods; Catering: Kitchen and Catering By Sam.