Lets start at the beginning, when and how did you and your partner meet?
We both met after mutual friends introduced us at Sunday afternoon drinks. We both played hockey for the same club and the same grade in the Barossa and had loads of mutual friends. We ended up socialising quite a bit together and it wasn't until months and months after we met that we started to date. With us both playing it too cool for each other, friends finally gave us the big push and It didn't take long to shack up. Work moved us around a bit which made dating a little tricky, but we made it work and thank god because it just keeps getting better and better.
Tell us about the proposal ..
Quite simply, It was in bed. We had not been home long from a friends beautiful wedding in the UK and so many of our friends were sure he would pop the question whilst we were overseas. One knee under the Eiffel Tower or on holiday would have sent shivers down my spine, too cliché. Thank god he didn't because I much preferred the way it happened, easy! With no chance of a cliché. We were away relaxing at one of our favourite spots that we go to regularly in Tourquay over a  weekend. I thought he was asleep and dreaming but he was oh so serious when he asked, and I of course said HECK YES.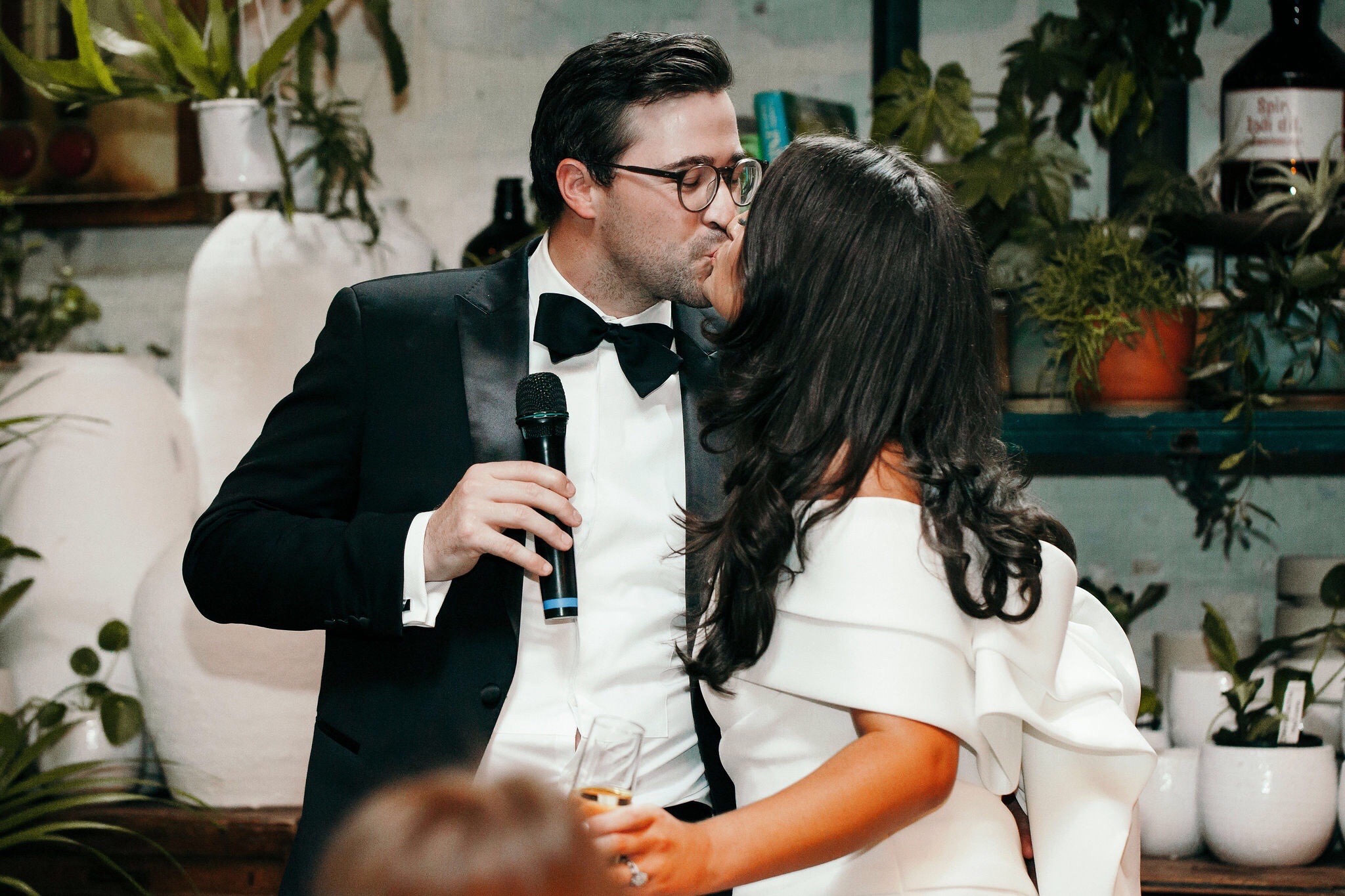 The Dress! Tell us about your experience finding the dress .. How did you decide on the one?
I went to a few designers around our house in East Melbourne to find my dress and finally found a designer who would make what I wanted. Only to find it was the price of a deposit on a new home in South Yarra. I then was home in Adelaide for an event and mum and I were having coffee at the Central Markets. She was scrolling Facebook and found Caleche on a pop up and suggested we go. Although all beautiful, the dresses weren't quite what I had in mind, determined bride and all. Embellishment and floral was not my thing but was totally in when I was searching to find a dress.  Liz asked what I thought I wanted and she said "we do custom!". PERFECT! There and then she sketched what I wanted and said 'leave it with me I'll find fabrics'. As it was an overseas wedding and it was being taken on the plane the fabric was the hard part. Picking one that would give me the effect I wanted but still being light enough to carry. Within the week the fabric had been sourced and the dress was a GO. There were several times I worried beyond belief that it wouldn't be what I wanted but that's my obsessive compulsive planning trait. Everything was taken care of by Liz and it was such a perfect process. I think I only had two or three fittings total coming back and forth from Melbourne and everything was taken care of. The only thing I wish I had done more was take photos at my fittings to document the journey, the few I have just aren't enough. I so loved my dress and it was absolutely what I wanted. It was perfect for our Scottish wedding and was even better at our Melbourne wedding. I'm so glad I was able to wear it again, not many brides get to do that. Although in Scotland being 27 degrees and the sunniest day in April's record it made for a warm day. Especially in my neoprene wetsuit, as it was described to others. After hours of fun in my dress I did change into a custom beaded top and feather skirt outfit in Scotland, it just allowed the cool change to take place which was totally needed after a massive day in the heat.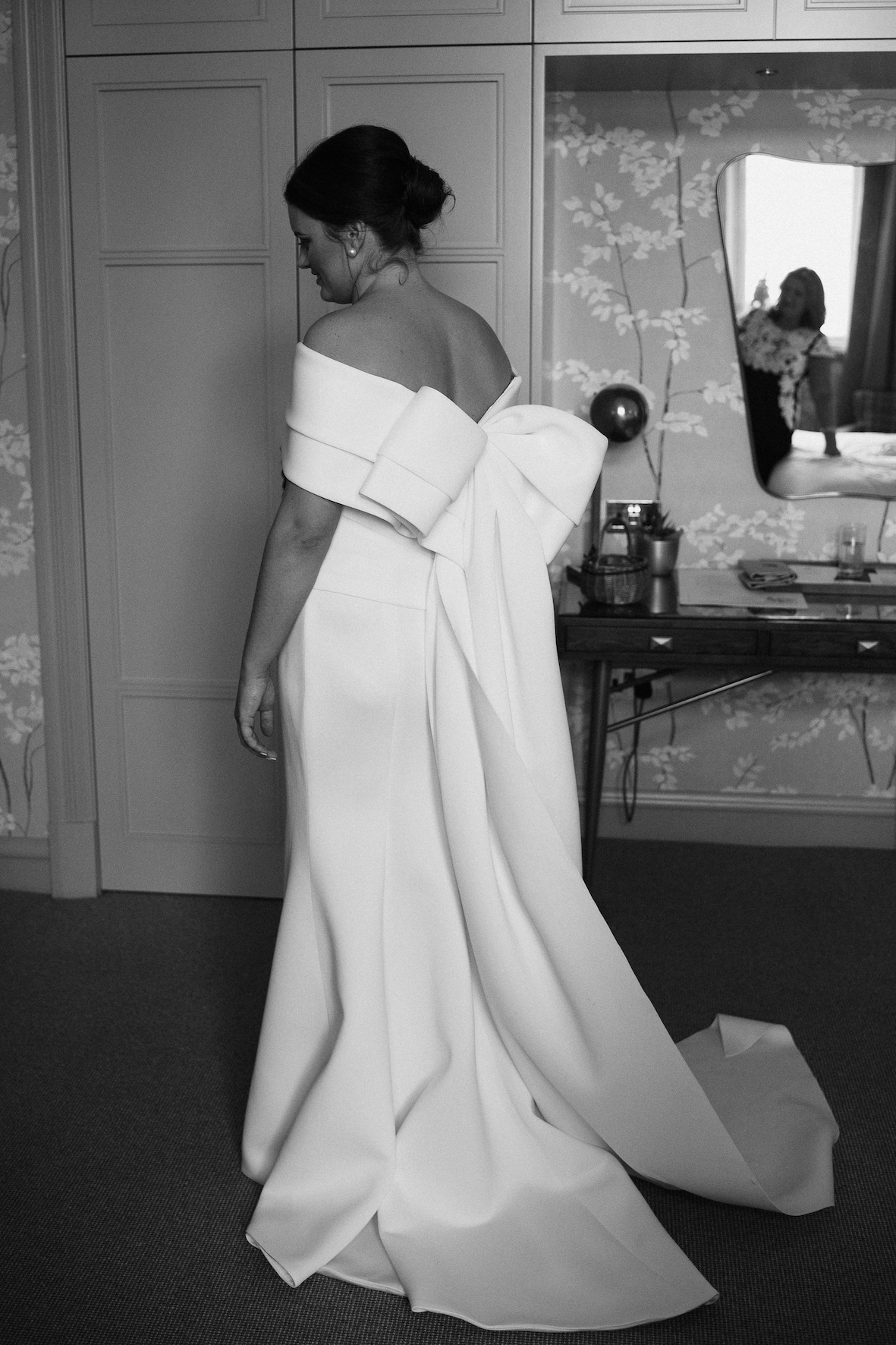 Can you give us some details on your wedding location?
Our first wedding was in Scotland. We wanted something small and then to have a party back in Melbourne. When brainstorming where to get married Toby knew how special Edinburgh is to our family and suggested it. We got married in our family church in Morningside that my mother was married in and my brother and I were christened in. The same man who married my mum and christened us married us too, he happened to be one of my grandfathers best pals. It was a very emotional hour being so sentimental and special. We wanted a small evening but with some arm twisting we chose the Balmoral Hotel, the hotel Toby and I spent some time at during our first trip to Edinburgh together. It was a fabulous location with the best photo opportunities. I was so glad we chose Edinburgh, it was super special for old family and friends to meet new family and friends. For Melbourne we didn't want a wedding again, more of a party for the extended family and friends who weren't in Scotland. We chose the Glasshaus Cremorne, a green oasis warehouse where we had been buying our plants from since our move to Melbourne. It was so beautiful after dark, candle lit and whimsical. But when the lights and candles were out and the music was turned up, it felt like a rave. Every single person was on the dance floor with a cocktail or frozen alcoholic icy pole in hand. It was so much fun and it didn't stop even when we were kicked out. We followed on into the pub down the road on Swan Street and boogied until the sun came up. 
What was your favourite moment of the day?
We had so many special moments from the day. Other than the obvious ceremony, photos on the roof with my brother and bridal party and the 1st dance are two moments for me that stood out. We were taken after dinner out into Princess Street by our photographer for some time by ourselves. The sun was down but the breeze was still warm and there were hundreds of people still enjoying the warm evening. We had 20 minutes of alone time just to soak up the day, our emotions and prepare for a massive night ahead. It was special to be together in Edinburgh on the day of our wedding just enjoying the company of each other. The other memorable moment for me was my first dance with my granny. The last in the family, she made everyone's day and we treasured her attendance. It was well worth the effort to have her there as not many brides can say their granny in their 90's danced the night away with them and their guests. Our band Bleeker who have become great friends over the years played at our wedding and hammered out Stuck in the middle with you by Stealers Wheel and every time I hear it now, it brings me so much joy and pleasure to remember her and our wedding in that way. Looking back now, it will probably be one of the best moments of my life. 
Hens Day! If you had one, please tell us all about it!
Yes I had 3…. one with my work friends in Melbourne, one in Rads with 'all my girls' and one in Scotland prior to the wedding. Melbourne consisted of dinner at Chin Chin and cheesy pop music all night long. ADELAIDE was gorgeous, a ridiculously hot day too. Drinks at Hennessy roof top bar, dinner at Madame Hanoi with games and silly activities and after we went to the fringe show Masseoke. It was a WILD night. Scotland we went away for the weekend with the close women in my family, extended family and friends. We went away to a lodge we visited as kids and my bridesmaids organised it all in secret with two beautiful dinners. Just a few days away prior to the wedding were great with the gals.
Lastly, is there any advice or words of wisdom you have for future brides? 
I think we struggled to keep in mind what mattered most, the two of us. We were too concerned keeping everyone else happy but things slip through that can't be avoided. We realised with some wise words from a friend of my mum's that you're never going to keep everyone happy so do the best you can to make sure you're happy. Don't obsess with the little things, nobody notices. Although those that did were the women who are getting married after your wedding, they notice everything and look for ideas for theirs. But the cricket mates and old family friends would have no idea you spent a crazy amount on custom candles, alcoholic icypoles and hand made Haighs chocolate bonbons, although again we wouldn't change a thing. Spend money on what means the most. If it's flowers or a dress or gin, do it. You will remember that. I was lucky to have a few nights with my family at the Balmoral  before the wedding. It was nice to have my parents, brother and his partner, granny, the bridal party and close family there to share moments in the lead up to the wedding.  I also loved dinner with just both of our families two days before the wedding, it's a special time to spend together as one. Also, ladies document those fittings. It's a special time to get wrapped up in with your gal pals and mums.  
Details

Scotland 
Photographer: Anna Urban and Loraine Ross; Ceremony: Greenbank Parish Church; Reception: The Balmoral Edinburgh; Videographer: Macdonald studio films; Dress: Caleche Bridal; Heels: YSL Miss Louise Boutique; Change outfit: One Day Bridal top and custom feather skirt, Dior crop; Suits: Joe Black; Shoes: RM Williams; Flowers: Quate and co; Hair: The Makeup Bar hair by ava spence (Eva gave me the best blow dry and I did my updo #controlfreak); Make up: The Makeup Bar (ask for Emma); Perfume: Frederic Malle 'portrait of a lady'; Rings: Canturi; Earrings: Paspaley Pearls; Band: Bleeker; Piper: Jack Mullins; Styling: Sketch and etch; Bonbon: Haighs chocolates; Cake: Marks and Spencer.
Melbourne
Photography: Love is sweet weddings; Venue: Glasshaus Inside Cremorne; Wedding coordinator: Ainsleymcdonald; Caterer: Four Side events; DJ: DJ Eddy Mac; Cake: Little Bertha; Alcoholic icy poles: Pops Australia; Flowers: by bride sourced from Glasshaus and prepared herself; Vases: Country Road; Rings: Canturi; Earrings: Paspaley Pearls; Shoes: Christian Louboutin/Hermes; Dress: Caleche; Suit: Joe black; Shoes: RM Williams; Hair: Harpers and co hair ask for Neville; Perfume: Francis Kurkdjian 'Baccarat Rouge 540'; Styling: Sketch and etch; Candles: Black picket fence candle; Bon Bon's: Sweet Mickie custom cookies.